Pippi Peterson grew up in a family of DIYers. Her father was an electrical engineer who was also very mechanically inclined, well adept at building structures with wood and metal.
Her mother was a capable and confident woman who would take matters into her own hands when something needed fixing, like broken cabinets and sealing leaks.
Pippi's father built from scratch a two story treehouse that was 15 feet off the ground for her to play in when she was young.
It had a ladder entrance through the floor of the main story and a crow's nest perched up top with seating for two. Extra long swings were installed off of an extension from the side of the structure and a tire swing was hung high in the big Doug Fir tree next to it.
Pippi recalls helping nail fence boards on the fence surrounding the big back yard and helping every year weeding and planting in the gardens with her mom and picking out plants for her personal garden that wrapped around the tall birch tree in the middle of the yard.Pippi also helped carry and place heavy bricks that were used around the uneven, hillside property building retaining walls and garden beds. She would always get paid .25 per brick placed.
Pippi's family lived on acres of land in Oregon and as a teenager she participated in building a four stall barn for their horses and a three bay garage and shop for their tractors and equipment.
Over the years Pippi helped pour a lot of concrete used for multiple installations including sidewalks, hot tub pads, creek beds, patios and also dig a lot of trenches for laying pipes, wiring, ponds and irrigation.
Pippi was no stranger to getting dirty and muscling through tough projects from all her DIY exposure and experience but also from her animal handling starting from a young age.
She was born into a house with an old cat and at the age of eight when the family cat was diagnosed with diabetes, Pippi would race to be the first awake so she could administer the daily insulin shot for the cat.
When the family got a dog she took it to training classes before she was even ten years old.
Pippi also rode horses from an early age and assisted in many vet procedures and regular health and cleaning maintenance. Pippi's second job, after being a brick layer was cleaning out horse stalls daily, shoveling a lot of poop and soiled shavings, cleaning and refilling water buckets, picking horse feet, feeding, removing and replacing horse blankets, brushing horses down and sweeping clean the barn. She would get paid a dollar for each stall she cleaned in a barn that had about 30 stalls.
Pippi excelled at her hobbies which included riding and showing horses and playing piano. When showing, she would regularly place in the top three if not first in her classes and was the top pianist with her piano teacher in her mid teens. She took the confidence gained from these experiences and applied them to her own projects and endeavors down the road.
As a young adult, Pippi convinced her parent's to let her renovate their guest bathroom that she had painted numerous times in many themes, usually when her parent's were away. They agreed to pay for the supplies and she would do all the work.
She ripped out the sub floor that was moldy from years of leaks from the shower and replaced it, finishing it off with marble tile. She replaced the vanity and countertop, a new sink, mirror, paint and detailed tiling around the counter back splash and shower area. Pippi was eager for more projects, renovations and fun but didn't know how to continue until the idea of an RV came along.
Pippi had always been a bit of a vagabond with her head in the clouds and no roots in the ground. She moved out of her parent's house when she was 17 spending her last year of school in Spain, graduating high school early and then moving to Costa Rica. During college she spent a year in Italy and came back to graduate with her bachelors in less than four years with a triple major.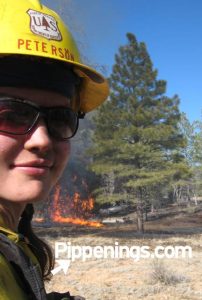 She immediately moved back to Europe with her loyal dog. Her interests were far and wide and after moving back to the US gained work experience across the board from fighting wildland fires and working as a ranch hand on cattle ranches, to working for an airline and in retail, service, education, ecological restoration and more.
For an eleven year period in the beginning of her adult life, she spent one year maximum in a location just twice usually moving every five months or less.
She lived in multiple countries, states and cities with her dog. With no solid career or financial stability or commitment and with a large dog, it was difficult to move around.
So when the idea of buying an RV came into the picture it not only suited her itch to renovate but also her nomadic lifestyle.
Since Pippi has bought and moved into her RV in September 2013 she has been working on renovations, maintenance and updates to her delight and has the freedom to move wherever and whenever she wants.
Some of her projects include:
You can see all of these videos on her YouTube channel and many others documenting her full time life in her RV and other Pippenings such as her belly dancing and her retired greyhound named Chase.